Weeks before cameras converged on the Tennessee state house to broadcast democracy in peril, long before he and Reps. Justin Pearson and Gloria Johnson became known as The Tennessee Three or sat in the oval office with President Biden—Rep. Justin Jones spoke to GLAAD about the oppression he faced working to give a voice to LGBTQ citizens and allies like him.
"I often get gaveled down," Jones says. "My mic gets shut off. But I also know that there are people who deserve to have someone speaking against hate, who deserve to have a voice, a counter-narrative spoken in that chamber."
The youngest Democratic House member and the first banned from the statehouse and later elected,  Rep. Jones, who is of Black and Filipino heritage, a Fisk University alumnus, and a student of the 1960s civil rights movement, brings "people power to the people's house."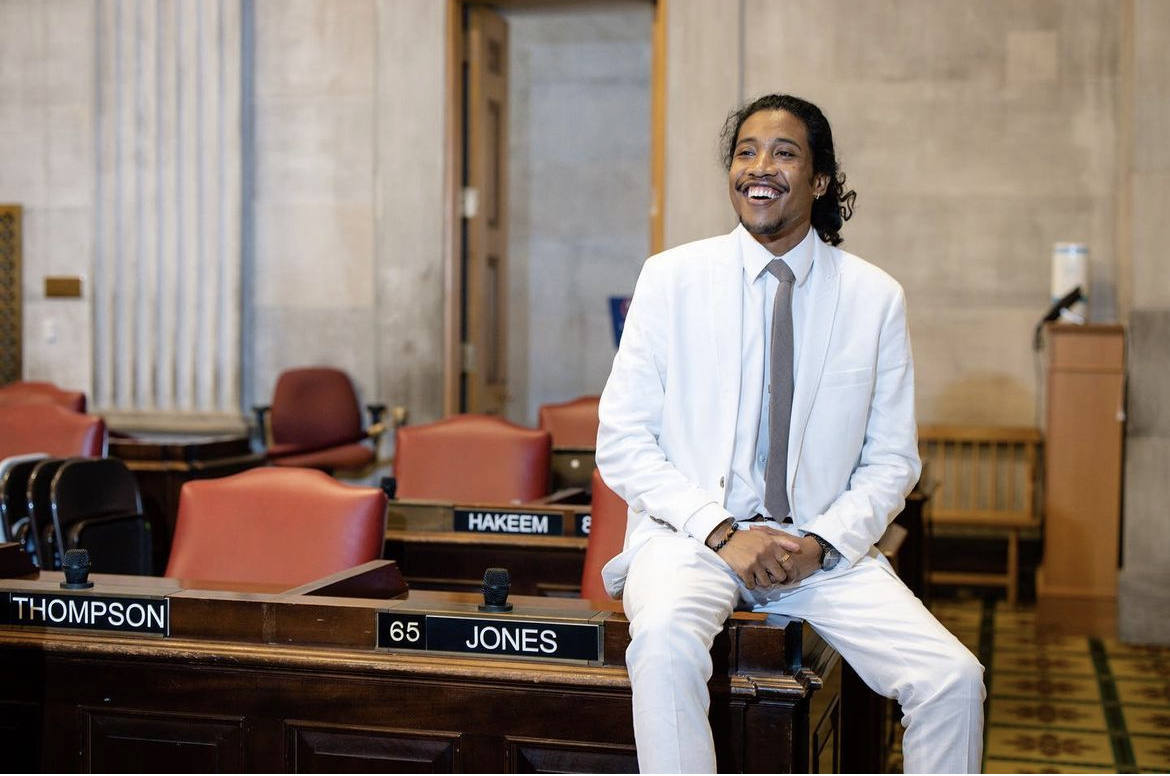 Despite being in a super Democratic minority, he is using his political voice in allyship to a community under attack, with his words reverberating far beyond the walls of the Tennessee House chambers—going viral—and in a state already under the national microscope—disturbing the status quo, whom Jones believes is desperate to maintain power.
"When they see someone like me, they're afraid that the state is changing, which is why they're trying to ban books and censor curriculum," Jones tells GLAAD. "If they were serious about addressing the issues that are harmful to youth, they don't need a bill; they need a mirror."
Tennessee youth, many of whom are not yet of legal voting age, are demanding a better future that includes LGBTQ equality and gun reform after the Covenant School shooting in March that left six people dead, including three nine-year-old children, amid a wave of anti-LGBTQ legislation in the state.
The Tennessee legislative session ended early on April 21, days after the expulsion of Reps. Jones and Pearson, Tennessee's two youngest Black Democratic-elected lawmakers. Rep. Johnson, who is white, survived removal from office by a single vote.
The Tennessee Three, as Reps. Jones, Pearson, and Johnson became known, faced an unprecedented charge of violating House decorum after utilizing a bullhorn on the House floor to call for responsible gun safety legislation.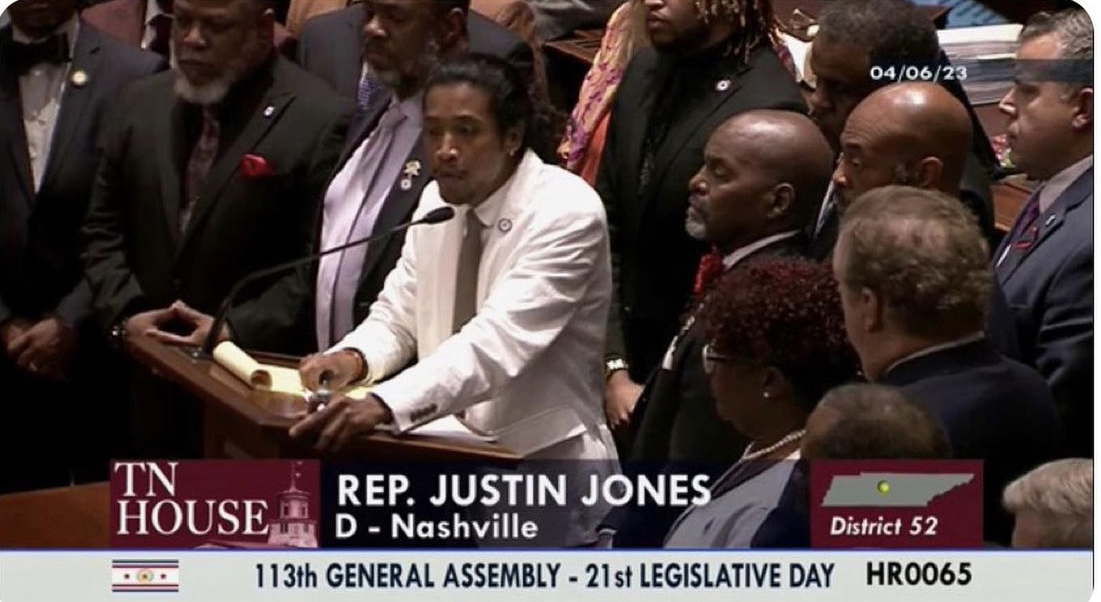 A crowd of protesters chanted inside the state capital before the vote resulting in the expulsion of the Democratic lawmakers: "You ban books, you ban drag—kids are still in body bags!"
"Until we act, there will be no peace for the thousands of children who came here demanding that we act, who are afraid that if they're in school, they'll be gunned down because you'll pass laws to make it easier to get a gun than it is to get healthcare in this state," Jones said in a speech from the House floor before the expulsion vote.
"You'll pass laws to make it easier to get a gun than it is to vote in this state. So there will be no peace in Tennessee until we act on this proliferation of weapons of war in our community," he added.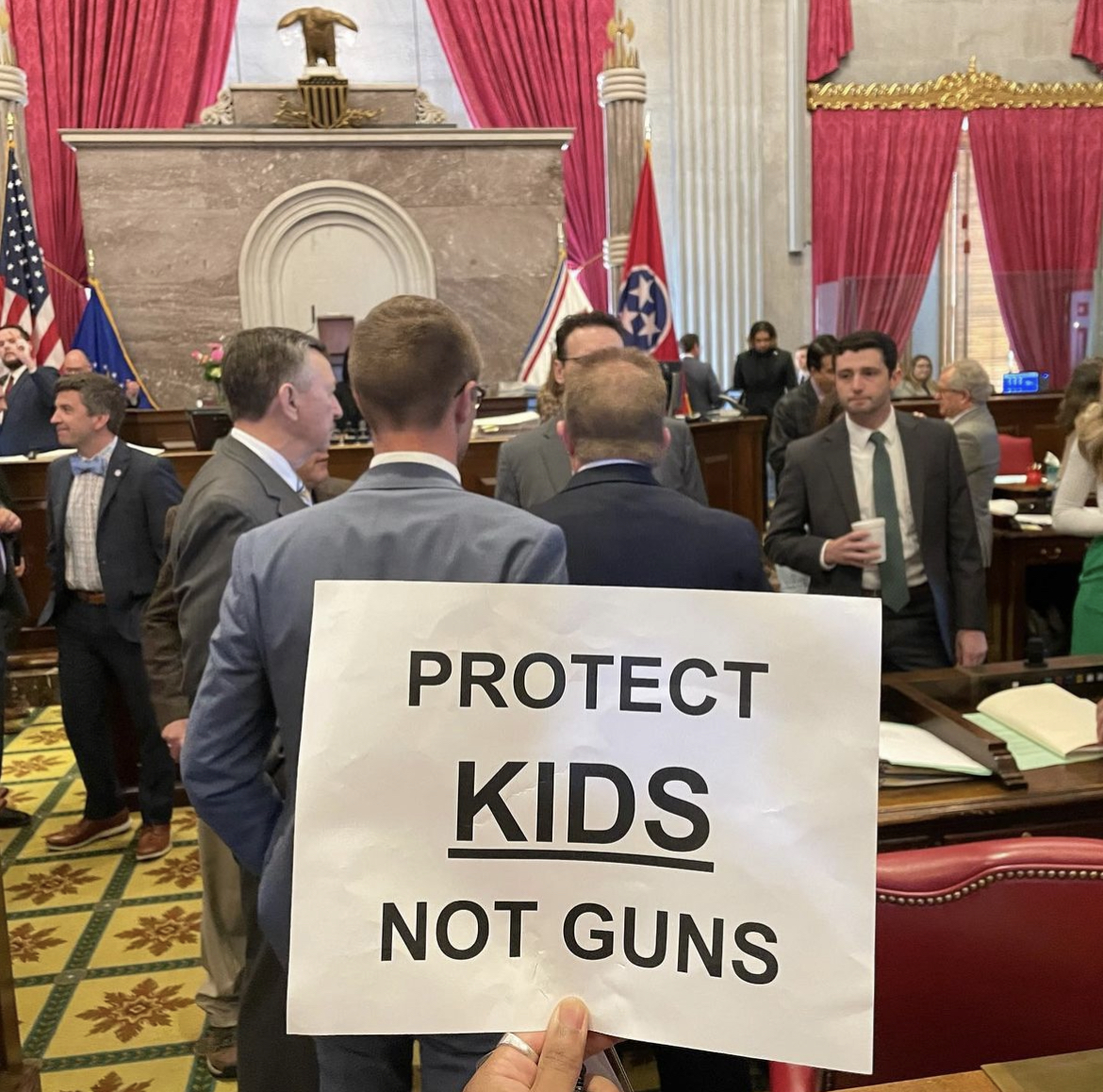 Reps. Jones and Pearson have since been reappointed to their original state office by their local town governments and invited to The White House.
Tackling Tennessee's 'Slate of Hate'
Lifelong LGBTQ allies, Jones and Pearson, to the frustration of their conservative colleagues, have consistently voiced support for the LGBTQ community and common-sense gun reform legislation from the House floor as dozens of anti-LGBTQ bills and zero action on gun safety permeated the recent legislative session.
"Tennessee has 27 anti-LGBTQ pieces of legislation this session, more than any other state in the nation, and that is no accident. That is intentional. We set the tone for the rest of the nation," Jones says.
Jones describes the tenor of the Tennessee House of Representatives and the 27 proposed anti-LGBTQ bills opponents have coined Tennessee's "Slate of Hate." as "violent."
In March, Tennessee Gov. Bill Lee signed SB1, a bill banning gender-affirming health care for transgender youth under age 18, and SB3, a bill restricting drag performances in the state.
When publishing, a Trump-appointed federal judge temporarily blocked Tennessee's drag ban, creating the road map to challenge any other state attempt to pass similar baseless and unconstitutional bans.
"Drag shows are not a threat to our community. Mass shootings are," Jones says.
"To see legalized systems being used to isolate, target, subjugate and dehumanize a group of people in law and practice with such precision is something that we see when we look at the civil rights movement," he says. "A very targeted effort to use the law as a tool to beat people down, and I think that's what we're seeing."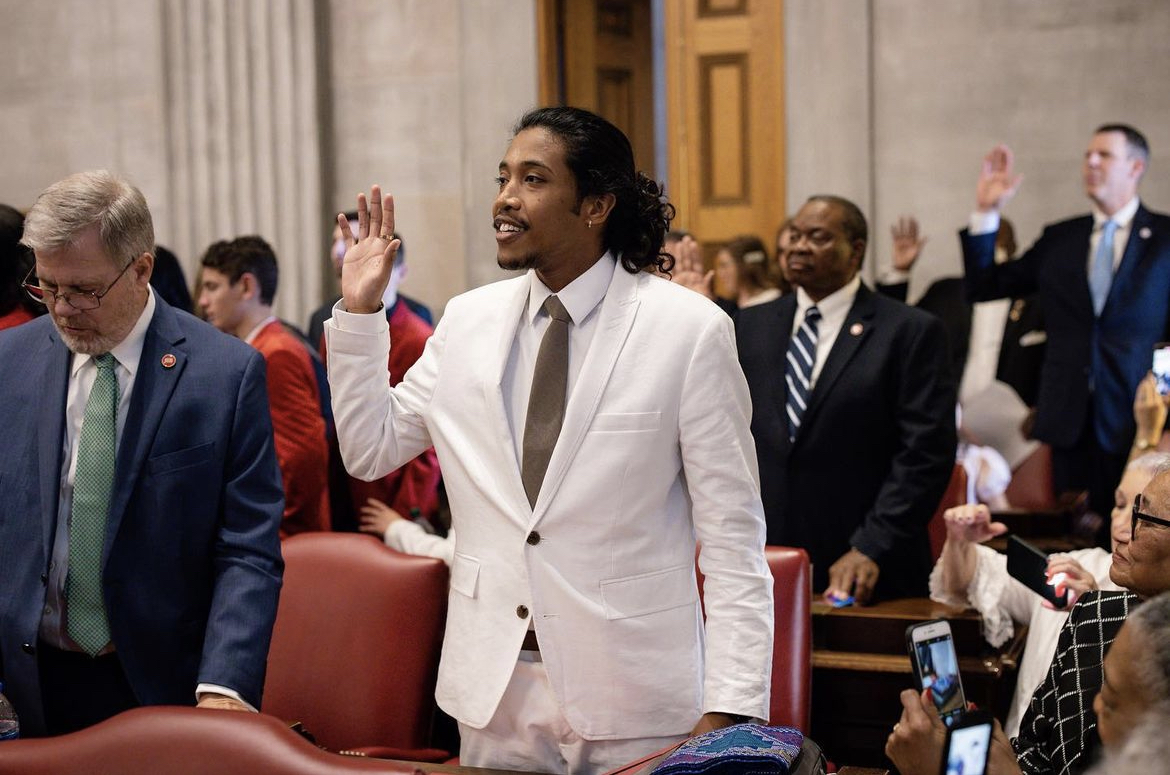 A Master's candidate at Vanderbilt Divinity School, Jones tells GLAAD he couldn't remain silent as members of the LGBTQ community faced relentless legislative attacks from his conservative colleagues in Tennessee and nationwide.
"These are basic issues of civil rights. I'm in the buckle of the Bible Belt, and I've seen religion weaponized to attack a community," Jones says. "As someone who was part of a faith community, I had to speak out and challenge this narrative of harm being used under the guise of religiosity."
And with the passage of SB1, a bill effectively banning gender-affirming care for trans youth in Tennessee, Jones says he is witnessing the impact of anti-LGBTQ legislation in the lives of his constituents.
"I have people from rural counties calling my office crying because their child is transgender, and they're afraid they'll have to move from the state," he says. "Parents are saying, 'I don't know where to go. My [representative] is putting a target on my child."
Before the end of the 113th Tennessee General Assembly, lawmakers managed to pass additional anti-LGBTQ bills, including a bill targeting transgender athletes in private schools, an anti-trans binary definition of "sex" bill; a parent opt-in bill that targets school clubs and LGBTQ curriculum resources; an anti-implicit bias training bill; and a bill allowing public school personnel to refuse to use a student's pronouns.
While many Tennesseans have denounced the legislation as shameful, Jones says his colleagues on the other side of the aisle are incapable of feeling shame for their political actions against the LGBTQ community.
"There is a political hubris and arrogance [among Tennessee conservative lawmakers] that does not allow for introspection, self-reflection, or pause," Jones says. "They go back to their bases and portray themselves as heroes sacrificing for this religious war that they're waging against a non-existent enemy that has real implications in the embodiment of people's lives."
"It takes every voice. Tennessee is a turning point, and we will not go back. Every state is on notice," said Sarah Kate Ellis, President and CEO of GLAAD, in a statement following the reappointment of Jones and Pearson.
Those who oppose gun safety reform and LGBTQ equality have tried to silence Jones' voice in the Tennessee legislature—but now the world is listening. A new generation is introducing people-first policies prioritizing country over party, and Jones and Pearson are at the forefront of this movement.