On June 26, 2013, the United States Supreme Court issued decisions on two cases critical to marriage equality.The so-called "Defense of Marriage Act" has been declared unconstitutional, and California's Proposition 8 has been struck down, meaning California same-sex couples will soon be able to marry their loved ones again.
LGBT characters and couples have helped pave the way for culture change as Americans show a record high support of marriage equality. A March 2013 ABC News/Washington Post poll showed that 58% of Americans now support marriage equality, the highest total ever seen in a mainstream national poll, following a record year with LGBT characters representing 4.4% of all scripted series regular characters on broadcast TV.
This trend is reflected over the last ten years as the increase of LGBT visibility in television correlated with increases in national support for marriage equality. Check out the graphic below, using marriage equality approval ratings from national polling results and LGBT character statistics via GLAAD's "Where We Are on TV" report (click for full sized graphic).
Share on Facebook, Twitter and Tumblr.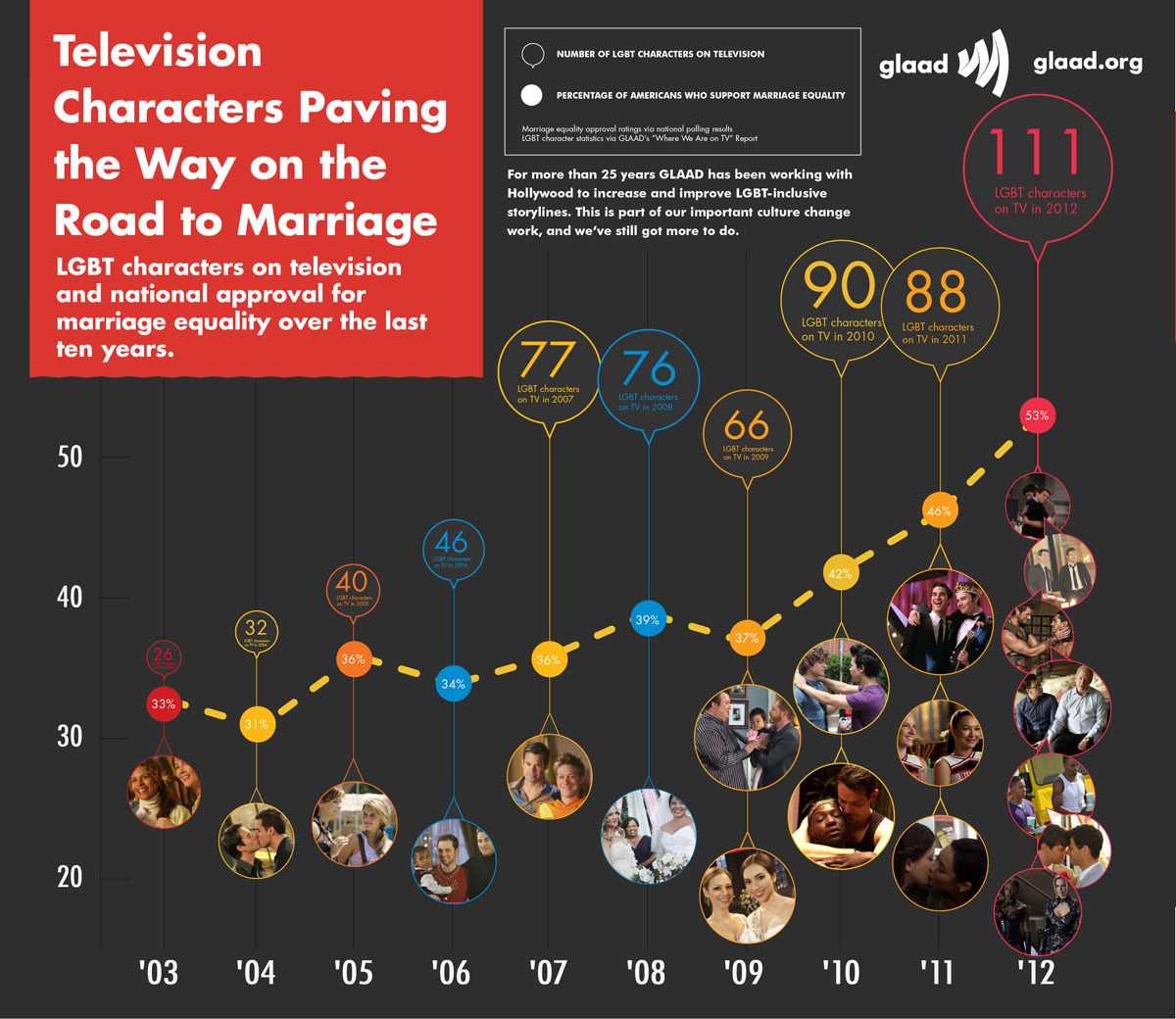 For more than 25 years GLAAD has been working with Hollywood to ensure LGBT-inclusive storylines. This is part of our important culture changing work, and we've still got more to do.
(TV shows pictured include: ER, Will & Grace, South of Nowhere, Brothers & Sisters, Desperate Housewives, Grey's Anatomy, Modern Family, All My Children, Degrassi: The Next Generation, True Blood, Glee, Pretty Little Liars, Partners, Happy Endings, Spartacus, Scandal, The L.A. Complex and The New Normal.)